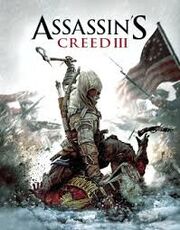 Desmond and his allies arrive at the Temple entrance in a cave in the New York area on October 31, 2012, and open its door using the Apple Of Eden, discovering a larger chamber of Precursor technology behind it, including another door requiring a key. Desmond suddenly falls into a fugue state, and is put into the Animus. There, he experiences the memories of a half Mohawk, half British man named Ratonhnhaké:ton (/ˈrəduːnˈhəɡeɪduːn/; "Ra-doon-ha-kay-doon"),[8] later dubbed Connor (Achilles calls him this in memory of his dead son), who lived through the American Revolution, as well as Connor's father, Haytham Kenway, who is later revealed as a British agent of the Templars. Kenway had gone to the Colonies in America with a stolen medallion, recruited Templar allies including Charles Lee, and worked to gain the trust of the Mohawk people to get them to show him the location of the Temple, but to his annoyance, the medallion did not open the Temple for him. Connor, as a young boy, witnesses Lee and his troops set fire to his village, killing his mother; years later, he is shown a Piece of Eden, through which Juno speaks to him and instructs him to get training from Master Assassin Achilles Davenport. Achilles takes Connor and teaches him about Assassins and introduces him to Patriots in the Revolution, through which Connor stops several Templar plans to disrupt their efforts including an assassination attempt against George Washington. During these memories, Desmond does recover from the fugue state, and helps his allies to recover power sources to power the Temple scattered about the globe, including one held by Abstergo.
Connor eventually encounters his father, but Kenway offers a cease fire, as he is also after Benjamin Church for usurping his authority. During their investigation, Kenway warns Connor that the Patriots, worried of the allegiance of the various tribes to the British, are seeking to remove Connor's people from their lands. Connor eventually hunts Lee down and kills him, taking the medallion and ending the Templar threat. He is despondent to find his tribe's village abandoned save for the Piece of Eden; through it, Juno tells him to bury the amulet. As December 21 approaches and signs of the solar flare begin to ensue, Desmond and his allies find the buried medallion, and use it at the inner Temple door, behind which is a control sphere. Juno appears and encourages Desmond to touch it, but Minerva appears and warns him to stop it, warning that this will release Juno as an entity that may protect against the solar flare but will be a threat to mankind in the future. Juno counters, explaining that Minerva would rather have most of humanity wiped out, with Desmond safe in the Temple to emerge as a religious figure to lead the survivors but ultimately leading into conflict. Desmond opts to release Juno, believing humanity will have a better chance fighting Juno. As his body is wracked by energy from the control sphere, an aurora surrounds the Earth and protects it from the solar flare. Juno tells the now fallen Desmond that his work is now done, and now it is time for her to do her work.
Assassin's Creed III is structured similarly to the previous games, with missions taking place on an open-world map based on Colonial Boston and New York, and offers a large wilderness area, the Frontier and in the Davenport Homestead, where the player can hunt animals for materials, which then subsequently can be used to construct goods to be traded and sold throughout the colonies. Naval battles were introduced, wherein the player must steer a warship named Aquila in dangerous waters and perform ship-to-ship combat with cannons and mounted guns. In Assassin's Creed III there are a large assortment of mini missions to play and many different outfits to purchase as the player progresses through the game. The modern-day aspects of the story were also significantly expanded, and featured missions taking place in, among other locations, Manhattan, Rome and Brazil.