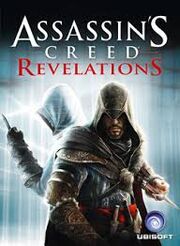 Desmond comes to consciousness in a virtual area within the Animus, the Animus Island, where he meets the digital personality of Subject 16. Subject 16 explains that from the trauma of stabbing Lucy, Desmond must complete the memories of both Altaïr and Ezio to be able to separate his mind from theirs and to allow him to come out of his coma; however, doing so will destabilize the island as the Animus recovers that memory segment and at one point Subject 16 sacrifices himself to allow Desmond to continue. Desmond rejoins Ezio's story many years after Brotherhood, where Ezio is curious to the Assassin's origins and has traveled to Masyaf to locate their original headquarters. He finds Altaïr's library, though it is locked by five keys which the Templars are also seeking, believing there to be great power within it. Ezio travels to the Ottoman-era Constantinople where the keys are said to have been hidden by explorer Niccolò Polo, and finds the city embroiled by the feuding brothers Selim and Ahmet vying for the Sultanate, the Templars secretly behind the battle. While searching for the keys, Ezio meets and falls in love with Sofia Sartor. Eventually, Ahmet is revealed as the agent for the Templars, and is killed by Selim, who thanks Ezio for his help but banishes him from the city for his own good.
Ezio - and through him, Desmond - uses the keys to witness Altaïr's memories following the death of Al Mualim. These show Altaïr having lost his wife and youngest son in the midst of a coup d'etat within the Assassins followed by a twenty-year self-imposed exile. Eventually, Altaïr returned to Masyaf, killed the usurper, and retook control. Near death, Altaïr inscribed the keys with his memories and gave them to his friend Niccoló to hide at a distant location, before disappearing into his library forever. In Ezio's present, he and Sofia go to Masyaf and open the library to find Altaïr's corpse and the Piece of Eden he possessed. Ezio leaves the Piece as well as his assassin tools, and speaks directly to Desmond, knowing he was only a conduit for him, and hopes he finds the answer he needs. Desmond is then approached by another holographic figure, Jupiter, who explains that their society had tried to use technology to stop the destruction of the earth's surface by a massive solar flare but failed, but they had stored their repository of knowledge in several vaults linked to a central vault which Desmond must use to stop another similar flare that will occur soon; Desmond recognizes the location in New England. Desmond wakes up from his coma, finding Rebecca, Shaun, and to his surprise, his father William, there. After learning that Lucy died from his stabbing, he informs of the location in New York, the Temple that will save humanity.
Revelations includes many new systems, including additional weapons. Bomb-crafting is now available, allowing the player to create explosive, distraction and tactical bombs, using materials found throughout the world and on Assassin's Guild missions. As the player progresses through, Ezio can train new recruits to defend "dens" (Assassin HQs) and an upgraded Assassin's missions section called "Mediterranean Defense" in which the player works to strip control of various cities from Templar hands. The hookblade is also introduced, which can be used in free-running (to travel along zip wires and climb more easily) and in combat (to manipulate enemies). Eagle Vision has been upgraded to Eagle Sense, which allows Ezio to not only see where his enemies and targets are but where they have been and where they are going to be. The multiplayer mode returns in Revelations, this time with more characters, modes, and maps, and by advancing up through levels of experience, the player learns more about Abstergo's history.